Homestar Remodeling Flashing Pin
We Love Making Custom Flashing Logo Pins
So, in late 2018 we were excited to receive a call from Homestar Remodeling about creating a custom flashing pin for them. They wanted one fast. After the phone call we emailed them:
Hi, thanks for calling.
The custom pins with your company logo would be:
500 pcs. - $1.89 each.
The price is all inclusive.
Please use this form to tell us more about the pin you'd like to make:
Is it Truly Custom?
They just wanted to know if we could make the pin according to the shape of their logo and if it could include four lights. It seems that other companies had told them that they could only put the Homestar logo on a premade pin like a circular or square shaped one.
Yes We Can!
Our custom flashing logo pins can be made in whatever shape is needed to compliment the source logo or artwork and we can include lights in any number, position or color.
So they sent us this image with the instructions: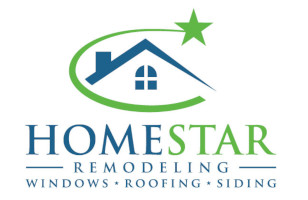 We would want the word "HomeStar" custom made and the house with the 4 little windows and the shooting star around it. We would want a green LED in the Star and the "O" and the blue Led in the chimney and the "A".
Strike One
We sent them this animated virtual sample of their pin, but we didn't follow their instruction perfectly the first time. Darn, need to learn to pay better attention to detail. (We are really pulling back the curtain here. We never try to pretend we are perfect and never make mistakes)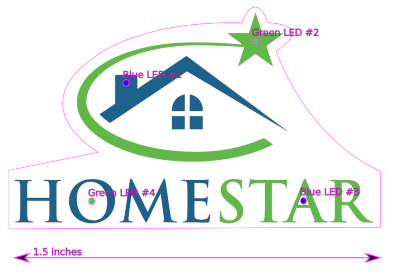 Strike Two
On the plus side, they were happy with our choice of LED light position and color, but they wanted us to remove all the text except "Homestar" and they wanted their pin to be closer to the shape of their logo. Here is what we sent them next. This is a diagram showing the color and position of the LED lights, and the shape and size of the pin.
Basehit!
After some back and forth with Homestar about what they wanted, we settled on this design. Honestly, we could have done better, and luckily they gave us a chance to do so later.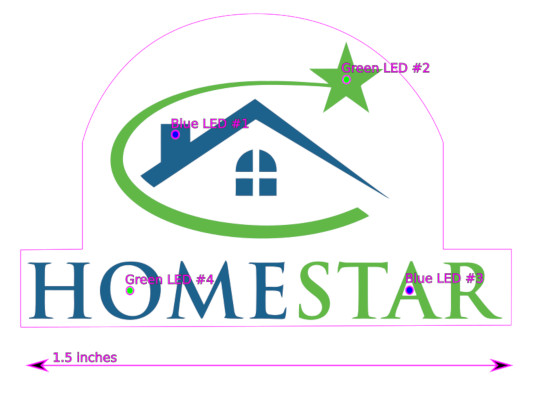 Can a blinky light be too blinky?
So Homestar got their lights on time on a tight schedule, and they were not in love with them:
"Overall the lights do look great. I just wanted to make sure there is a setting to hold the lights. They are constantly blinking and it's a little disorienting."
Not much we could do. We had sent them an animation showing what their pin would look like, and we had no idea they would have preferred slow changing or steady lights.
Do over
Thankfully, HomeStar was still able to use the pins they got from us. Their customers loved them and they were ready to order more. This time they were much more deliberative with us. They made sure to ask a lot of questions and took the time to let us know what they wanted.
Back in Business
It was almost a year before we heard from Homestar again. In early November 2019 their marketing manager contacted us on our website chat:
[15:11]
Matt has joined the conversation
[15:11]
Matt: Hi J
[15:13]
J: Hello, I know that the company I work for, HomeStar Remodeling, has worked with you before. I was wondering if there is a possibility of ordering something similar to our last order. We still want the same mold used, but we were wondering if there is a way to make the lights either blink less fast, or make them steady lights.
[15:14]
Matt: Yes sure
[15:14]
Matt: We could make the lights slow changing.
[15:15]
J: That's awesome to hear! Would you be able to email me an updated quote to present to the owner?
[15:15]
Matt: Yes, I'll do an updated quote and a new animation.
[15:15]
Matt: How many are you thinking?
[15:17]
J: To be honest I'm not sure how many we ordered last time. I'm having a meeting to speak with the owner, Anton, about it at about 12 pm. Lets say about 150-200 for now.
[15:17]
Matt: Okay, it was 500 last time by the way.
[15:17]
Matt: I'll quote 100, 250 and 500
[15:1
[15:18]
Matt: Send the quote here? 

j@homestarremodeling.com

[15:18]
J: Yes please
[15:19]
Matt Okay will do.
Slowwwww Down
Hi J,
Thanks for chatting today.
Here is the quote for your new blinky light:
100: $3.99 each
250: $2.79 each
500: $1.89 each
1000: $1.34 each
Here is the new animation: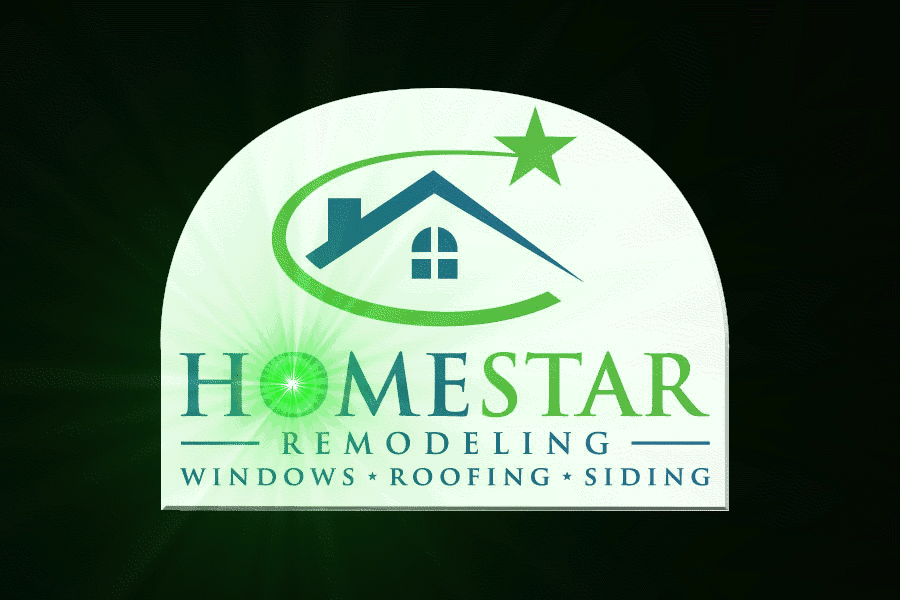 How do you like it?
Well.....
We spoke on the phone and discussed what they were really looking for and I still didn't quite get it, but got closer:
J showed the new design to her boss and she came back with:
Mr. A. liked what you sent, but he wanted me to throw another idea out there just in case. Keep the other design cause that is probably what we are going for, but he wants to know if something like the picture attached is also possible. 
Your Wish is My Command
Hello J,
Yes we could do it exactly like that picture if you like. We usually don't design these with sharp points for safety sake, which is why I made the outline of the star rounded. But that would be up to you.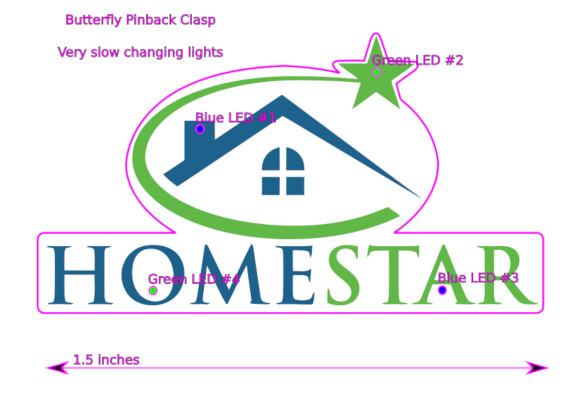 Heavy Metal
At this point we thought we were ready to go, but there was a new wrinkle from J:
"Just to clarify, this is for metal pins then?"
Actually , no our pins are not metal, they are a fiberglass and steel composite (PC board)
"Hi J, Our pins are made of printed circuit board material with is a composite of steel and fiberglass -- so part metal, but very durable."
Sometimes Email is Just too Slow
Then the big boss Mr. A called and we discussed the material of the pin some more. It turns out they liked the look of the other offer they got for metal pins that blink, but our cost was a lot better.
So I came up with this design to simulate shiny metal.
Lesser of Two Evils?
I spoke to Mr. A an the phone about the design and he wasn't awestruck by it. In the end he decided to go for it because the price was so much better than the competing offer of the light up pin made of metal.
I Do Not Think That Means What You Think it Means
So we chatted with our blinkee producers overseas and at first they didn't understand what we wanted. I had given them a diagram for the blinkee that included the Pantone colors for the logo and a silver metallic Pantone color for the metallic effect gradient I created.
New Possibilities
I had no idea we could make our pins look like real metal using the process our blinkee producers referred to as "Hot Silver Process." They gave me this image as an example, but they said the process was very expensive. Then they came back a bit later and informed me that since I was a very good customer for a long time, they would do the "Hot Silver Process" for us at no extra charge.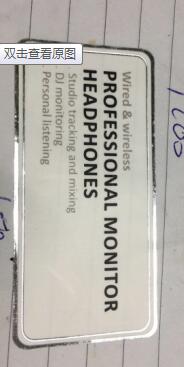 Luck Was on Our Side
Before long the pins were ready, and we were very happy with the result. As of the time of this writing the pins are on the way to Mr. A, so I'll revise this later to let you know what they thought of them.