Artificial Muscle Vivitouch "Fingerprint" Custom Flashing Blinky Light Pins
Ducks in a Row
In April of 2012 Jennifer from the company Artificial Muscle contacted us with the following request:
Hi Matt,
Per our conversation, attached is the idea we have in mind. Below are the details:
5 white lights
Steel base
Size : 2" top to bottom
Attachment: butterfly clutch or open to suggestions
Qty: 500
Deadline: May 31st for event on June 5th
Please let me know if you need additional information.
I love it when our customers know what they want and have all their ducks in a row.
The Time is Short
However, custom flashing blinky lights pins take time to manufacture. Our turn time is 3-5 weeks and we've even produced and delivered in about 18 days.
We knew this project would be close, but Jennifer was able to get started right away, so we were able to guarantee on time delivery.
Make it a Double
In my exchange with Jennifer we established the price for 500 pcs at $1.89 each, and while she seemed to be pleased, she decided to get an even better price and ended up ordering 1000 for $1.59 each using this LED design.
A Very Attractive Pin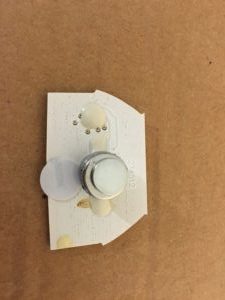 In this case, Jennifer opted for a magnet fastener for her blinky lights. It is a good option for those that want a pin that won't damage their guests fine outfits at fancy galas. Often time, the guests are apprehensive to use a pin that will pierce their tuxedos or dresses. The pin includes 2 magnets. The first is permanently attached to the pin and the second one can be used to attach to a lapel pin, attracting to the first.
Ahead of Schedule
When all was said and done we were able to deliver their pins 2 weeks ahead of schedule.
Once received, Jennifer was like:
Magic Matt!  You are amazing!  The pins arrive today.  I LOVE THEM!  I thought I would send you a video to show you what it actually looks like – in case you don't know. 🙂
Thank you so much all your help in getting these to us on time.
You are the best!
And here's the video she sent us: