5 Heartwarming Valentine's Day Light ups
Be ready for Valentines' day this year by having some go to gifts in your back pocket. Get ready now so you won't be scrambling at the last minute. That way, you can spend Valentine's date having a cute candlelight dinner and enjoying your favorite things with your sweetheart.
How can Valentine's day be complete without valentine's day lights? We all love the super adorable heart-shaped lights flashing around the house, making the day even more beautiful.
To make sure that you don't miss out on Valentine's day lights, we have picked out 5 heartwarming selections to hang in your home, and give the house Valentine's vibes.
Here are the picks:
I LOVE U-Brightown Decorative Plastic LED Marquee Letter Light Up Letters Sign Home Party Wedding Night Light Decoration Battery Operated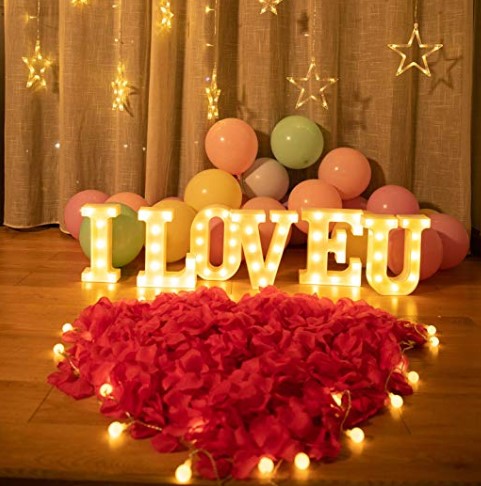 Surprise your sweetheart and create an indelible impression of your love. This "I Love You" lamp will stun your sweetheart. He or she will be left dumbfounded when you setup this lamp in a cute spot in your home. If you plan on having dinner at home, you can even set it up at the dinner table.
Since these lights are portable and come up with a keyhole in back, you easily hang them on a wall, in your loved ones' room or really anywhere you like. The letters are battery operated for maximum versatility.
Technical Details:
Product Dimensions: 16.5 x 11.3 x 9.2 inches
Item Weight: 6.8 pounds
Major Features:
Plastic material: These lights are manufactured with environmentally friendly plastic.
On and off switch: To have a longer battery life, you can turn the lights off when they are not needed, this way the battery life will increase.
Corrosion-resistant: These LED lights are corrosion resistant and that is why they are more durable.
Bright Zeal 16″ x 7″ Large Love Signs Decor for Bedroom LED Marquee Letter Lights (Bronze) – Large Light Up Love Sign for Wedding Table Decor – Wedding Signs for Ceremony and Reception with Stand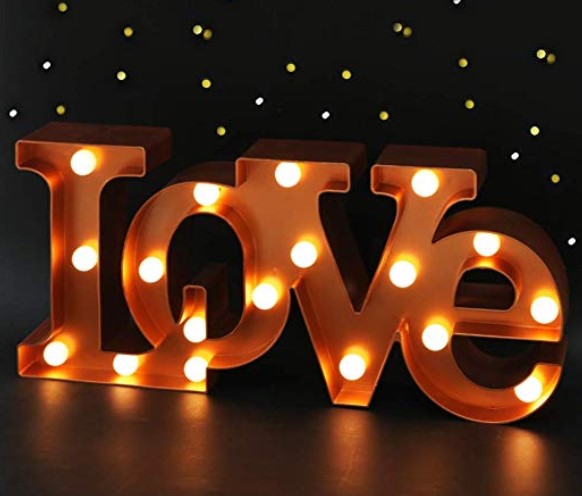 Bring home another sign of your love with lights for your dinner table set up on valentine's day. After a hard day of grinding with the daily routine, get all cozy and warm with the ambiance of this lovely Love lamp.
This battery operated romance marquee can be manually controlled with an integrated power switch on the back, or it has a cool timer feature. Easily set it light up during the prime 6 hours of the day of your choice and to remain dormant during the other 18 hours.
Technical Details:
Product Dimensions: 17.8 x 7.9 x 2.6 inches
Item Weight: 1.85 pounds
Major Features:
Energy-saving: This love sign comes with 18 LED lights that are designed to conserve energy. Also, the love sign includes a timer to automatically cycle for 6 hours on and 18 hours off..
On and off switch: This love sign comes with an on and off switch for manually control when you want the LED lights on or off.
Pooqla Marquee Light up Red Heart Sign with 6 Warm White Bulbs for Wall Decor Valentine Wedding Anniversary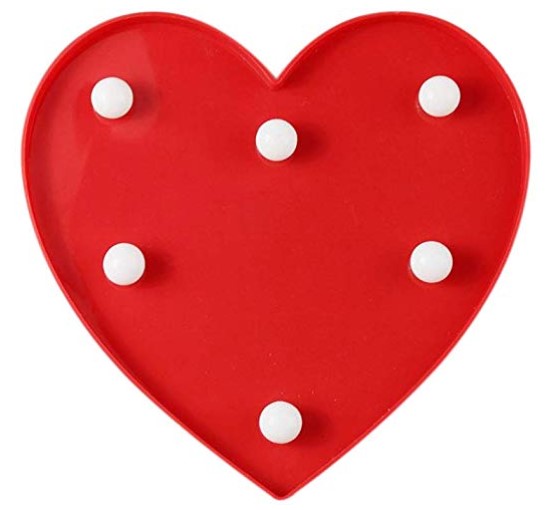 Next is the Pooqla Marquee light. It's a super cute, versatile heart light that can setup wherever you need a touch of love.
Hang it on a wall or place in a prominent spot on a bookshelf.
Technical Details:
Product Dimensions: 6.8 x 6.6 x 1.6 inches
Item Weight: 5.6 ounces
Major Features:
Length: 14.5 cm.
Cordless
Battery operated
Obrecis Light Up Letters Neon Signs, Pink Marquee Letters Lights Wall Decor for Christmas, Birthday Party, Bar Valentine's Day Words-Pink Letters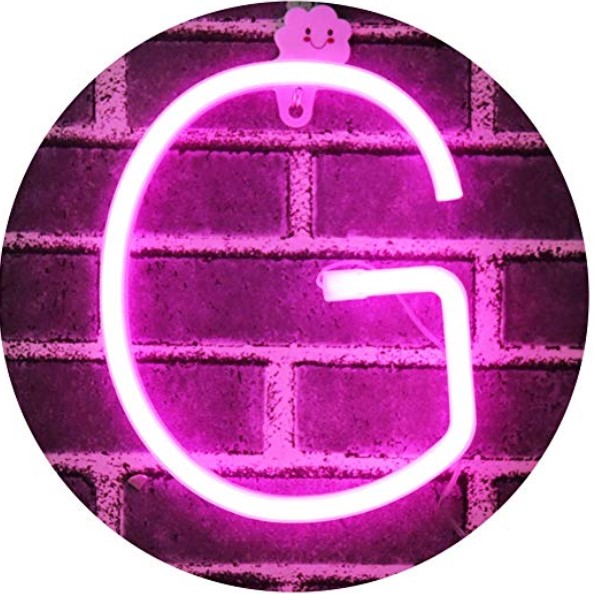 Obrecis light up letters take the fourth place on our list. These lights are LED powered that simulate neon lights and are available in all the letters of the alphabet. We've chosen pin for Valentine's day, but you can find these letters in many colors as well.. Combine them to spell your sweetheart's name or write a message with them like "I love you", "home" or anything you can think of.
These can be powered by USB or AA batteries.
Technical Details:
Shipping Weight: 8 ounces
Major Features:
Energy-saving and environmentally friendly: These alphabets that light up are energy-saving and environmentally friendly. They are USB or powered by batteries and consume low energy.
Hanging hook holes: The hanging hook holes are present behind the letter with which you can hang them on the wall.
Love Heart 3D Night Light Illusion Lamp YKL WORLD Touch 7 Color Changing Toy Bed Room Table Decor Birthday Mother's Day Gifts for Kids Baby Mother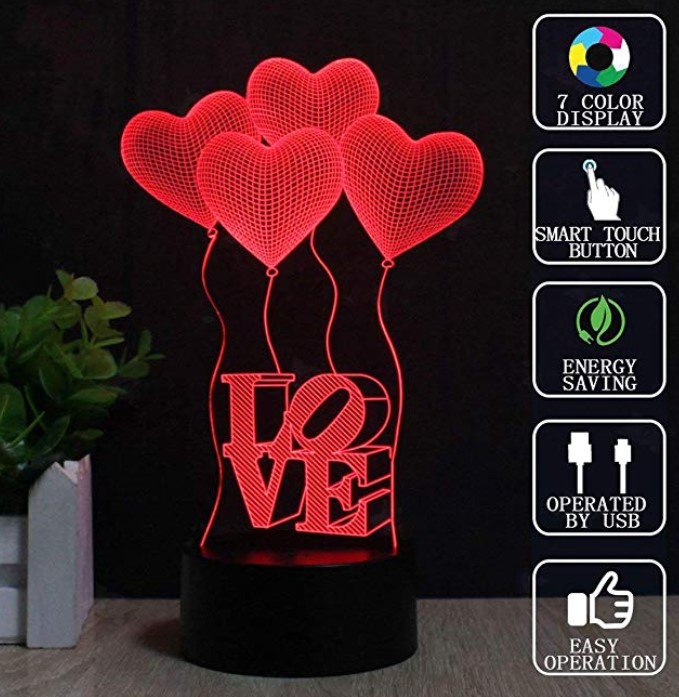 Finally, a high tech twist on love. This USB lamp is etched glass that give the illusion of being three dimensional. These use cutting edge LED technology and are cool to the touch. With the help of an adapter, it can be fully charged within three hours and it can work for up to seven hours in colored modes, and it works in white light for two hours.
Technical Details:
Product Dimensions: 9.9 x 6.8 x 2.3 inches
Item Weight: 12.6 ounces
Major Features:
Smart Touch Control: This night lamp has 8 changeable colors and they can be controlled with the help of the smart touch control.
USB powered: Since this night lamp is USB powered, it is safe to touch and it doesn't overheat.
Versatility: It can be a sweet present for your sweetheart, you can even gif it to your mother or your children.